The Frantic Frigate is a key item that allows you to travel between kingdoms.
Properties
Edit
Frantic Frigate is a transport vehicle that can fly between kingdoms. It has a giant hot air balloon that allows it to travel in the sky.
The Frantic Frigate is a key item and doesn't have any rarity and it has no star rating.
Acquisition
Edit
The Frantic Frigate can be obtained from a challenge only once.
Name
Difficulty range
Reward
Amero Kingdom

Challenge II

251-265

Frantic Frigate
Provides access to the World map
After you have acquired the Frantic Frigate you can access to it through the world map and then travel between kingdoms. The next compatible item is the Passports.
Frantic Frigates
Edit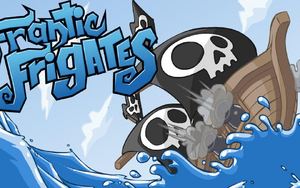 The name Frantic Frigate is based on the same-titled game by the Berzerk Studio. The player has to control a ship which has to fight sharks, boats and other ships. A special shop for pirates offers you upgrades for your boat to beat all bosses.
The first installment of the Frantic Frigate franchise was critically acclaimed, won multiple awards and was front page on all major portals.
Where to Play:
Edit
Frantic Frigates 2
Edit
Frantic Frigates 2 was planned to be the sequel of the first version of the game. Bigger sharks and more action were announced. Despite that, the Game has never been released. (Read more about the game here)
Awards
Ad blocker interference detected!
Wikia is a free-to-use site that makes money from advertising. We have a modified experience for viewers using ad blockers

Wikia is not accessible if you've made further modifications. Remove the custom ad blocker rule(s) and the page will load as expected.