The Halloween Event 2016 is a temporary event, which began on 13th October and ended on 25th November 2016.
A special feature of the event was that Bob and his minions wore Halloween Costumes suggested by the community.
Ancient Portal
Edit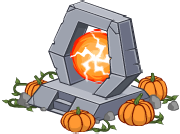 It's a strange ancient portal. It appears to have reactivated!
Do you dare go through it?
One can access the Portal at the very beginning of the Amero Kingdom, however, the portal is only accessible during Halloween. When entered, the portal will take the player to a brand new area inhabited by skeleton villagers and headless giants with pumpkin heads called Halloween Mercenary.
Player can freely move between the worlds. There is no charge for using the Portal.
World Overview
Edit
Halloween Challenges
Edit
The level of the Challenges depends on the highest level the player has ever reached (denoted as x in following table). The items can be currently bought in the Item Dump in the Amero Kingdom if any challenges or even entire event has been missed. All items are unique and can only be acquired once.
Name
Difficulty range
Reward
Price
Challenge I
x-29 to x-5
A Witch's Shoes
Add 15 seconds to boss battle
100
Challenge II
x-19 to x+5
A Haunted Potato
Add 100% skull's value
150
Challenge III
x-9 to x+15
An Evil Candle
Add 5% of white orbs drop
250
Challenge IV
x+1 to x+25
Another Witch's Shoes
Add 3 to white orb drops
100
Challenge V
x+11 to x+35
A Sexy Potato
Add 3 to white orb drops
150
Challenge VI
x+21 to x+45
Evil Lipstick
Add 3 to white orb drops
250
Halloween Items Forge Recipes
Edit
Main article: Forge
| Item | Description | 1st ingredient | 2nd ingredient | 3rd ingredient |
| --- | --- | --- | --- | --- |
| The Potato Man | Add 20% to orbs drop | A Witch's Shoes | A Haunted Potato | An Evil Candle |
| The Potato Lady | Add 15 orbs to orb drops | Another Witch's Shoes | A Sexy Potato | Evil Lipstick |
| Magic Potato Baby | Add 30 orbs to every boss | The Potato Man | The Potato Lady | Magic Ring |
Halloween Enemies
Edit
Name
Image
Function
Description
Pumpkin
Guard
Standard Enemy every 5 difficulties
The protector of the Halloween villages. He has a wooden shield and an axe.
Pumpkin
Warrior
Enemy of the Challenges
The protector of the Halloween Challanges. He has a small shield and a halberd.
Pumpkin
King
Boss Enemy of the Challenges
The King of the Halloween realm. He has a big shield and a purple sword.
Halloween Houses
Edit
The houses of the Halloween Realm have a unique style, that differs from those of the other worlds. The houses are constructed of black stone and wood, which gives them spooky look.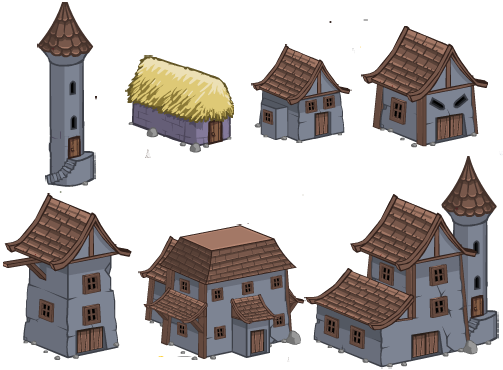 Ancient Portal shares the design with Time Portal, they differ a little, however. Ancient Portal's vortex is orange and instead of trees, pumpkins are growing around.
There are 3 visual designs for Halloween bosses, however, the differences are only in shield, weapon and crown. The three sets are:

Axe and iron shield.
Tiny crown, purple sword and wooden shield.
Halberd and small iron shield.
Ad blocker interference detected!
Wikia is a free-to-use site that makes money from advertising. We have a modified experience for viewers using ad blockers

Wikia is not accessible if you've made further modifications. Remove the custom ad blocker rule(s) and the page will load as expected.