Time Portal
Edit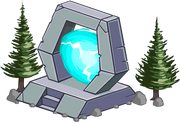 Time Portal
is a feature in the game that allows player to reset their progress without losing
Hell Buildings
,
Achievements
and
Items
. Upon resetting player losing
skulls
,
minions
,
map progress
but turns broken orbs into
white orbs
.
Each kingdom features two time portals, some portals feature multiplier bonus for orbs. There are at least two time portals with same bonus, except for first portal player can use and the final portal that features in the game. 
After beating all locations in kingdom, player can enter the last time portal and fight the Wizard who protects a black orb , if player haven't got it before.
Items that effect on portal multiplier
Edit
Ancient Portal
Edit
There are also Ancient Portal that transports player to new locations, but they are only available during special events.
Death Volcano is the only kingdom where all time portal haven't got trees in the backgound
Ad blocker interference detected!
Wikia is a free-to-use site that makes money from advertising. We have a modified experience for viewers using ad blockers

Wikia is not accessible if you've made further modifications. Remove the custom ad blocker rule(s) and the page will load as expected.